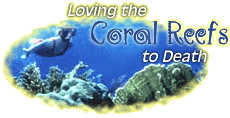 | | |
| --- | --- |
| | It's August -- time for that last vacation before the kids go back to school and the fall grind starts wearing at the spirit. How about "really" getting away from it all, by visiting another world...an underwater forest populated by over six-thousand species of plants, fish, and other critters. But beware : one false move could ruin the beauty you've come to see. Reporter Tanya Ott tells us what's happening in the Florida Keys. |
Florida's Coral Reefs
By Tanya Ott
Ott: Every year, millions of us flock to coastal communities across the United States. We shimmy into our swimsuits, slop on the sunscreen, and storm the sand. Some of us take Madeline Delphin's route, lugging lawn chairs and tackle boxes from point to point in search of that magic fishing spot. Delphin, a resident of Puerto Rico, has been coming to Cedar Key off Florida's Middle Gulf Coast, for years now. Here, she fishes for Sea Trout, Mullet, Whiting -- whatever's biting.
However, Delphin says in recent years her catch has gone down. She doesn't know why, but New Mexico tourist Mary Jo Scarsgar has an idea.
Scarsgar: Absolutely, a lot of it is due to the weather and just an overabundance of people and fishing, all those kinds of things, and pollution.
Ott: And she's right, according to researcher Loretta Burke of the Washington D.C.-based World Resource Institute.
Burke:I think it's important that scientists are finally recognizing the environmental dangers in these coastal areas. They're certainly seeing the effects of overfishing, but also sediments and pollution both from nearby coastal activities and from agriculture far inland.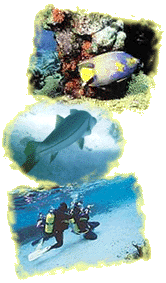 Ott: Burke says the problem is particularly noticeable in the Florida Keys. A recent study by her organization found that even though the Keys are a protected marine sanctuary, 90 percent of them are threatened by human activity. Coral reef diseases -- caused by contact with humans -- have increased ten-fold in the last decade, and the tourists are starting to notice. New Yorker Jane Graham has snorkeled in the Caribbean several times.
Graham: I thought I noticed more coral in this area that seemed damaged. It looked like the coral had bigger spots where bacteria had gotten in.
Ott: The World Resource Institute's Loretta Burke says if things keep up, the Florida Keys run the risk of becoming so-called "Dead Zones," which could have a devastating effect on South Florida's booming tourism industry. Last year alone, more than one million divers visited the Keys -- spending 1.6 billion dollars. Tour boat operators say they know their livelihood is at stake, so they're fighting back by launching public education campaigns.
Wendy Kitchell is a tour guide for Sunny Days Catamarans, one of the larger operations which runs four snorkeling cruises a day. She explains to clients that coral is on the decline worldwide due to human impact. She tells it like it is, saying things like:
"...So what that means for us today is there's no standing up anywhere. There's no kicking anything, there's no touching anything, there's no bringing anything back with you. It's a visual experience only. Of you touch coral, kick it, flick it, whatever you do to it, you're ripping open the very thin protective membrane that covers over it, and bacteria's gonna get in and it's gonna kill that whole portion of the coral, okay?"
You also don't want to touch the coral because it can hurt you. It's very sharp, and at least one species -- called "Fire Coral" -- can give you a first or second degree chemical burn. So are divers and snorkelers getting the message? Well, sort of according to Jane Graham and her husband David.
Jane Graham: We still had someone standing on the reef today that had to be yelled at because he wasn't thinking. But it's not totally pervasive. I think in a group of twenty, you'll find maybe one person that doesn't get it. That's not bad, considering there's nineteen that do!"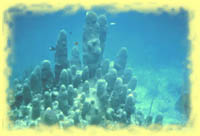 David Graham: I think there's too many groups coming out at once. At one point here today there were six boats with approximately twenty people per boat. So 100 people at once I think is too much. I think they should stagger the boats more.
Ott: But it's the number of people, staggered or not, that's at issue here, not only for the coral reefs, but for the thousands of coastal businesses that feed off tourist traffic. University of Delaware Ocean Researcher Robert Knecht just completed a study for the U.S. government on the impact of coastal tourism and how it's managed.
Knecht: It's the restaurants, the hotels, the resorts. It's the people who sell fishing rods and fishing gear, the dive shops, the tour operators. It's recreational boating and sport fishing. The list goes on and on.
There's no question about it. Much of the coastal environment has a definite carrying capacity. Certainly, the amount of use we're making of the oceans and coast has increased substantially in the last couple of decades. And we're finding that increasingly the policy and management approaches that we're bringing to these increases are inadequate and innappropriate. They're too fragmented.
Ott: Tourism, fishing, oil, coastal development -- they're all regulated by different local, state, and federal government agencies with different rules and regulations. Ne'er the 'twain shall meet--until this year. In June, for the first time in more that three decades, researchers, environmentalists, politicians, and business people met in California to come up with an integrated coastal and ocean management plan which supporters hope will save the underwater rain forests of the world. In Florida, I'm Tanya Ott for the Savvy Traveler.
- - - - -
For info on how to become a more environmentally conscious diver and boater, see the Florida Keys Web site.
[ Features Index ]