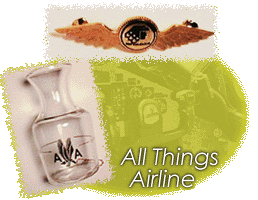 There are clubs in airports and then there are clubs of people who like all things aviation. How about when Tanya Ott took us to meet members of the Airline Historical Society? Those folks collect all kinds of things related to the airline industry...ALL kinds.
by Tanya Ott
Well, I asked everyone I talked to who's the weird of the weird in airline memorabilia collecting and each came up with the same answer: the barf bag boys.
"My name is Robert Gorve, I'm from San Diego, and I collect barf bags."
When you tell people you collect barf bags, what's their reaction?
"A mixture depending on how well they know me between surprise and horror, but basically it's puzzlement, was the overall impression."
Where do you store 'em all?
"Each bag that I have is individually framed and is hanging on my bathroom walls."
Why the bathroom and not another room?
"The dinding room for example? There is a limit to propriety."
Bob Grove isn't the only barf bag guy; they're seriously trading these things. So serious that one collector from Amsterdam is scrambling to buy up every bag he can. He walks around airports wearing a yellow shirt and a hat that says "I want barf bags," just so he can make the record books.
My sources tell me the Europeans have an edge on Americans; in fact many of the largest airline sickness bag collections are found in Germany, and just this fall, one of the top American collectors, a guy from Ft. Worth, Texas, sold his entire collection to a German. It seems barf bag collecting was getting too - well - cutthroat for him.