[an error occurred while processing this directive]

Whether your notion of an African safari means roughing it in the bush like Hemingway, or enjoying a civilized cup of tea on the verandah of a 5-star game lodge, South Africa offers a wide selection of both private and public game reserves to suit every taste and budget. The Savvy Traveler's Tom Verde takes us along as he visits a range of game reserves, from exclusive, top-of-the-line lodges to inexpensive national parks.
By Tom Verde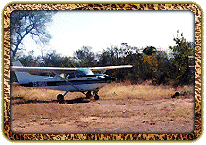 Arriving by plane. Honeyguide Tented Safari Camp (Lodges of Manyaleti)

While big-game hunting has long been and remains a popular sport in South Africa, these days most people go on safari armed with cameras instead of carbines.
GUIDE: The herd starts here, and it runs right around us at the moment Donovan Wright, a twenty-something South African guide from Honeyguide, a tented safari camp in the northern province of Mpumalanga, put a cautionary finger to his lips and urged me to stay quiet. Fifty yards ahead of us, several hundred water buffalo were just waking up, and they hadn't had their coffee.

GUIDE (whispering): You can see the males, all the males on the outside, these are the big guys at the back sitting watching us over here, the females and the youngsters will be in the middle here. Let's get a bit closer, see what we can do.
Of all God's creatures great and small in the African bush that could put you in the hospital, water buffalo are considered the most dangerous, followed by lion, leopard, rhino and elephant, collectively known as the big five. What makes a water buffalo so tough is that, unlike the others, who sometimes stage mock charges when threatened, he keeps right on coming ... all 1500, red-eyed angry pounds of him.
| | |
| --- | --- |
| Inside view of the accomodations at Honeyguide | Accomodations at Honeyguide |
Honeyguide owner Christoff Van Staden says a tented camp lends itself to the nostalgic colonial era and fits the "Out of Africa" experience.
The canvas tents are simple but comfortable: a bed with a mattress and mosquito netting, a wicker chair or two on a platform outside, and a private bath attached, complete with a galvanized tub for soaking in after a long hard day in the bush. Despite these modest luxuries, it's clear that you are in the wilderness, especially after dark, when the African night, and its cast of characters, begin to close in on you.
STADEN: There's no fence around the camp so you literally have animals walking through the camp on a regular basis ... hyena visits every night. Apart from that we have lion, not on a regular basis, but from time to time. But elephants this year are regular visitors to the camp.
Like the pack of bachelor bulls who joined us for lunch on afternoon, helping themselves to a few tree branches and washing them down with water from a small garden pool.
For human guests at Honeyguide, there's a wider selection on the menu, including such traditional favorites as potjiekos (POI-KEE-KOS), a rich stew of kudu or other game, cooked over an open fire at a braai, or barbecue.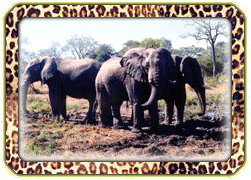 Elephants spotted at watering mud hole near Honeyguide.
All meals, game drives and walks are included in the $150 a night rate, making Honeyguide and other tented camps in its class an affordable, not to mention adventurous, way to go on safari.
Dinner under the stars is also a standard fare, together with a little local entertainment, at Mala Mala, a private game reserve about 75 miles south of Honeyguide. Winner of numerous travel industry awards for excellence, Mala Mala enjoys a worldwide reputation as one of Africa's most exclusive safari lodges. At $600 per person per night, this is the top of the line, catering to such celebrity guests as Keith Richards and Shirley MacLaine, not to mention royalty from all over the world.
White rhino spotted at the Shamwari Game Reserve.
White rhino spotted at the Mala Mala Game Reserve.
The setting at Mala Mala is idyllic: a sprawling, thatched-roof hunting lodge, overlooking the San River, where herds of giraffe, impala, zebra and elephants routinely come to drink.
But many people come here to see the cats. Mala Mala boasts the largest leopard population in the world, not to mention plenty of lions and cheetahs, which are among the fastest animals on the planet.
VON WILK: The fastest, over a short distance ... as fast as 75 miles per hour ... which is usually sufficient to catch their prey.
If you do visit Mala Mala, make sure to ask for guide Leon Van Wilk, a slightly stuffy former high school biology teacher from Zambia who, in addition to knowing his stuff, does a mean hippo impersonation.
Leon failed to coax a hippo out of the water for me, but during my two-day stay at Mala Mala, I did see a whole host of wild animals, including all of the big five, as well as an exciting cheetah kill. Because animals on the reserves have become accustomed to vehicles, we were able to get as close as ten yards to the elegant cheetah as she ate her kill--a small antelope called a steenbok--beneath the shade of a goya tree.
Wild creatures like the cheetah are now one of South Africa's most treasured natural resources, attracting hundreds of thousands of visitors a year. But it wasn't always that way. The early settlers and farmers considered such animals vermin and did their best to eradicate them.
WILLIS: In this enclosure, we have eland, scientific name tautotragus roryx, which are these females, young females, possibly about two years old, and what we intend doing with these is breeding with them.
Reintroducing indigenous species which had long ago been shot out by local farmers is a primary goal at Shamwari, a luxurious, private game reserve in the Eastern Cape, a diverse region of coastal plains, rugged hills and harsh desert near the very bottom of the continent. Home to 24 different species of antelope, the 35,000-acre reserve also has one of the last elephant herds in the region, as well as thriving populations of hippopotamus, buffalo and the endangered black rhino. Head ranger Peter Willis:
WILLIS: Shamwari's philosophy is conserving a vanishing way of life. What their aim is, is to restore this area back to what it used to be in the early 1800s, before white men arrived here.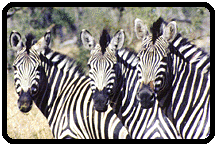 Zebras spotted near Kruger National Park

Shamwari's mission statement also calls for the preservation of local tribal culture. At Kaya Kandaba, a traditional African healing village on the reserve, members of the Xhosas, the tribe of South African President Nelson Mandela, practice their own brand of medicine, which includes peering into the future by tossing a basket full of bones across a straw mat.

Fortune-telling sessions with the resident sangoma, or witch doctor, cost about twelve bucks. A room for the night and three squares a day at Shamwari's Long Lee Manor, a restored 19th century Edwardian mansion, run close to two hundred dollars per person. For a hundred dollars more, you can rent a charming settler's cottage that sleeps up to eight. Or if you're really feeling flushed you can stay at Shamwari Lodge, a luxurious complex of thatched-roof bungalows, including a five-bedroom presidential suite which will set you back almost a thousand dollars a night.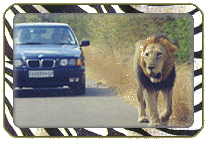 Lion spotted at Kruger National Park

But if your budget calls for a little more self-service, you absolutely can't go wrong at Kruger National Park in the northeastern corner of the country, by far South Africa's best safari bargain. At nearly five million acres, or roughly the size of Massachusetts, Kruger is the largest public park on the continent.

Guided game drives are offered for about ten dollars, but to me the best part about Kruger is that you can just rent a car and drive all over the park's 1200 miles of unpaved roads looking for wildlife on your own. You'll find all of the big five here, in addition to well over a hundred species of other mammals.

I hadn't been in the park ten minutes before a troop of baboons parked itself in front of my car, followed by a herd of impala, on its way to a waterhole where some wildebeest were enjoying a good wallow.

There are guide books for sale in the park that can help you identify the various animals, but it's not a bad idea to go on at least one or two game drives before you set off on your own, just so you'll know what you're looking at. But make sure, warn park authorities, that you always do so from the safety of your car. Luther Masuku is the park's marketing manager:
MASUKU: It is very, very dangerous. The animals are pretty wild; they're not tamed at all. We've had incidences of people trying to take photographs ... jumping out of their vehicles, and it did turn out to be dangerous at some stage.
This is where you'll find South Africans on vacation. There are a couple of dozen sparklingly clean, well-run fenced-in campsites throughout the park, offering a variety of accommodations, from twelve bedroom bush lodges to simple thatched-roof bungalows that rent for about fifty or sixty dollars a night. Camping facilities are also available for the backpack and trailer crowd.
More Info:

Honeyguide Tented Safari Camp
For reservations, call or write:
Lodges of Manyaleti
PO Box 786064
Sandton 2146
South Africa
Tel: 27-11-880-3912
Fax: 27-11-447-4326
e-mail: hguide@global.co.za

Mala Mala Game Reserve
Reservations:
PO Box 2575
Randberg 2125
South Africa
Tel: +27 11 789 2677
Fax: +27 11 886 4382
e-mail: jhb@malamala.com
www.malamala.com

Shamwari Game Reserve
Reservations:
PO Box 32017
Summerstrand
Port Elizabeth 6019
South Africa
Tel: +27 42 203 1111
Fax: +27 42 235 1224
e-mail: shamwari@global.co.za

Kruger National Park
Reservations:
South Africa National Parks
PO Box 787
Pretoria 0001
South Africa
Tel: +27 12 343 1991
Fax: +27 12 343 0905
e-mail: reservations@parks-sa.co.za
Air Carriers:

South African Airways, in partnership with American Airlines, has direct flights from the United States (New York and Miami) to Johannesberg. Call 800-722-9675.
Other carriers to South Africa, via European cities, include:

British Airways


Air France


SwissAir


KLM


Northwest
For more information on game reserves, safaris, and travel to South Africa, call or write to:

The South African Tourism Board
747 Third Ave.
20th Fl.
New York, NY 10017
212-838-8841
800-822-5368
Suite 1524
9841 Airport Blvd.
Los Angeles, CA 90045-5431
310-641-8444
800-782-9772
Air transportion and accomodations courtesy of the South African Tourism Board
[ Features Index ]