Postcard by Geo Beach
Dear Rudy,
So here's my train of thought... Last time I was at LAX leveraging my legs into a downsized coast-to-coaster, I said to myself, "Oh, Beautiful, some spacious skies! As soon as I touch down I'm gonna hit the open road and find some of that real American freedom." That expansive thought allowed me to unwind across four time zones and zip right through my rental car pickup, but I got derailed when I hit congestion, construction, and consternation -- road rage -- on I-95. Finally, figuring motels are six of one, half dozen of another, I checked into the first joint after the Last Chance Texaco to recline and catch some Zs. But Rudy, there wasn't even any room in the room! You guys are getting more and more crowded down there -- the whole Lower 48 is packed tighter than the Lower East Side.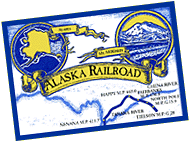 Well, here's a space-age idea: Rudy Maxa, come on up! We've got maximum headroom up here on the top of the planet, and the best way to get into training for The Great Land is by stretching out on the Alaska Railroad. Seventy-five years ago this summer, President Warren Harding drove home the golden spike with a two-strike count and completed the Alaska Railroad. Now I'm not railing against anybody, but these days Harding is better known as a fellow traveler with Arkansas Traveler Bill Clinton in the history of presidential parlor scandals; however, on this occasion the real Mrs. Harding shared the presidential sleeper.
Anyway, in true government fashion, the president's advance man in landlocked interior Alaska was a Navy admiral who advised the reporters in attendance to wear sweaters, long underwear, and galoshes to protect against the cold and mosquitoes. Of course it was in the 90s and bug-less that summer day in Nenana and, needless to say, the press were not impressed.
Well, these days Alaska's no longer a territory and it's supposed to be united with you other states down there. But the railroad still isn't connected - ya caht get heeya from theya by rail -- the 500 miles of track are the most northerly in the Americas. Way far north: Paul Theroux's Great Railway Bazaar along the Trans-Siberian looks like a tropical cruise from this latitude. Yeah, the Alaska Railroad may be distant, but it's not unfriendly. You can hail the iron mastodon most anywhere along the line and the beast will actually halt and pick you up - the last flag-stop service in the country. Way easier than getting a taxi in Manhattan.
And, oh, the places you'll go: there's Happy and Clear, Summit and Tunnel and Portage, Moose Pass and Indian, College and Honolulu and Hurricane Gulch. The domed observation cars are like low-flying A-10 Warthogs: commanding the panoramic vistas, especially on the route from Fairbanks to Anchorage, where it feels like a Serengeti safari pasted onto the Himalayas. Then the blue and gold Alaska Railroad becomes a truly majestic train when you get an audience with Denali, The Great One, the tiara of the National Park System.
That's a lot to feast your eyes on, Rudy, but it doesn't a dinner make. Nor a drink. So when I'm getting ridden out of town on rail, I always train my sights on the Railway Brewing Company of Anchorage, the country's only brewpub in an active train depot, and honored this year as the Best Brewpub in North America. So climb aboard and I'll buy you a beer -- like an Iron Horse or Whistle Stop Wheat or a Cannonball Double Stout. When your thirst for adventure is quenched and you head down the stairs into the Last Frontier's wide open spaces, just remember to hold the railing.
Yours in locomotion,
Geo Beach
For more Information:

Read more about Alaska in an article Geo Beach wrote for Sky Magazine.

Want to ride on the Alaska rails? Check out their Web site. To reserve your spot send e-mail to reservations@akrr.com

Visit the Railway Brewing Company online. Or e-mail them at railway@alaska.net.
Writer Geo Beach gets off the beaten track in Sky magazine. For more information on traveling Alaska, check out this article.
[ Features Index ]