It's summertime and lots of Americans are digging out their English-Spanish dictionaries as they head south of the border to Mexico. The Savvy Traveler's Judie Fein was recently in a very special Mexican town, located about 260 miles north of Mexico City.
Guanajuato, Mexico
by Judith Fein for the Savvy Traveler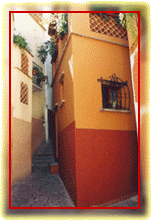 I first thought of visiting Guanajuato, Mexico when I heard I could rent a two-bedroom apartment there for $14 a night. It sounded too good to be true. It was. The owner got difficult, then impossible, and, on the eve of our departure, the deal feel through. My husband and I were stuck with two plane tickets, and no lodging. Our dream of Mexico was over.
We were just about to cash in our tickets when someone mentioned that UNESCO had named Guanajuato a "patrimonio de la humanidad"--an international cultural treasure. We looked at each other, boarded a plane, and here we are.
Everywhere we go, there's music in the air. A rainbow arches over the majestic hills of the city. The shops and restaurants look exciting and exotic.
I feel a little guilty doing this report for the Savvy Traveler because the "patrimonio" is an undiscovered jewel and I shudder to think of it being encrusted with tourists. The friendly and charming town dignitaries, however, are waiting with open arms.
Here we are with the President of the Guanajuato State Cultural Institute. He smile as he tells us what the Patrimonio has to offer visitors.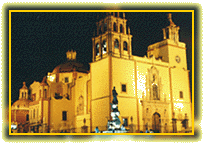 Institutue President: "Guanajuato is an outstanding place--this famous theatre--the Alhondigas where we started the war of Independence--the small streets--the geographic situation--it's really beautiful."
The Mayor, or Alcalde, Luis Philipe Luna, agrees:
Mayor: "Citizens of United States visit to Guanajuato because it is a beautiful place for vacation and resorts...and tranquility."
Well, I guess there's a precedent for tourists in Guanajuato. The first to arrive were the Spanish, in the mid-l6th century. They discovered the richest vein of silver in the new world here, and carried it out on the backs of local Indians. Today, more than 500 colonial buildings still sparkle in the Mexican sun with their pastel-colored facades and balconies trimmed with iron work.
Beneath them run steep cobblestone streets which branch off into tiny, picturesque alleyways. One of the most famous, the Street of the Kiss, is so narrow that 2 forbidden lovers were purported to have stolen kisses from opposing balconies. To test the veracity of the story, we stop a romantic Mexican couple who happen to be strolling by and ask them to smooch from opposite sides of the street:
She: "Christina Ortiz."
He: "Satornino Jimenez."
Judith: "And they've agreed to try this experiment."
Sound of big, smacky kiss.
Sound of giggles.
Judith: "Gracias."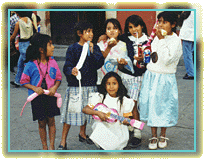 Well, I guess the old legend is possible. What's not possible is for automobiles to negotiate these alleyways. Instead, modern traffic circumvents the narrow streets underground, in massive stone tunnels. They burrow underneath the entire city and are rumored to be haunted by ghosts.
Ghosts, of a sort, are also the city's star attraction in the bizarre and celebrated mummy museum, where we are now. It's adjacent to a large cemetery. School children run blithely through the halls, but we are pretty spooked by our lifeless companions. Our guide, Manuel, introduces us to one of the museum's mummified inhabitants:
More than l00 leathery-looking bodies, some peaceful and some tormented, line the museum's walls in glass cases. They are unwrapped, and exposed to the world. Some still wear their burial clothes, and others are, quite literally, just skin, internal organs, and bones. They have been preserved, it is said, by dryness or minerals in their burial crypts.
Manuel: "This conservation is very different from the Egyptian conservation. They opened the chest and they take out everything--the lungs, the heart, the liver, the intestines and also the brain. But these bodies, they have everything inside."
One of the reasons Guanajuato has been named a Patrimonio is its wealth of unusual museums. There's the childhood house of famed muralist Diego Rivera, where you can gaze into his cradle or ponder photos of him with the beautiful, brilliant and long-suffering artist Frido Kahlo. And then there is the Alhondigas, a fortress-like building where the Mexican War of Independence began in l8l0.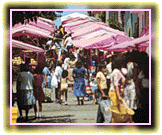 Desmond O'Shaunnessey, is an Irishman who, believe it or not, heads the promotions department of the Guanajuato tourist bureau. He brings us to the Alhondigas, where he picks up a small cage with a big, bloody history:
Desmond: "This cage was used to hold the heads of the leaders of the war of Independence of l8l0. On each corner of this building a head was put in one of these cages. A head was hung on each corner of the building as a reminder."
One of the most singular cultural respositories in Guanajuato is the Don Quixote Iconographic Museum--an entire institute dedicated to the fictional star of Cervantes' l7th century novel. Artists from around the world have contributed paintings and sculptures of the tall, thin dreamer who fought windmills, and his short, stocky side-kick, Sancho Panza. Where else in the world would a museum director, in this case a man named Enriquè Hagen, give you a preview of his upcoming role in a museum performance? He's playing Don Quixote, of course.
One of Guanajuato's charms comes up when the sun goes down. We do what the locals do, and head for the heart of the city--the garden, or "Jardin." There is an explosion of night life--a live band, vendors, outdoor and indoor restaurants, roller-skating kids and strolling minstrels. This is the Mexico I secretly dreamed about before I came.
Now I'll blow the biggest secret of all. This exotic patrimonio is incredibly easy on the wallet. Taxi fares are a dollar or two, you can dine at the Hotel Guanajuato, overlooking the city, for about 8 dollars. Cut that price in half if you eat chicken in mole sauce or the local specialty-- enchiladas mineras-- at Penguis Restaurant, right off the Jardin. Hotels are a bargain. The suite where the king and queen of Spain slept and took their afternoon siestas is under a hundred dollars. Elizabeth Yanez, who heads the tourist bureau, tells us how accessible Guanajuato is.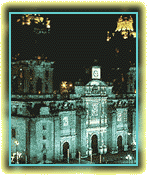 Elizabeth: "You have direct flights via Dallas...and also Houston...and a direct flight from NY to Leon. Also from LA."
If you visit the Patrimonio, be sure to go into the vast, colorful Hidalgo Market and taste some of the local fruits. My favorite is Mamey. With its thick, brown skin, it looks like hell but tastes like heaven. Well, now that all the cats are out of all my bags, I think I'll go have another enchilada minera and wash it down with a Paloma, which is a slurpable mixture of Squirt and tequila. Hasta la vista!
------------
For more of Judie Fein's writing, visit www.livefromsantafe.com
For more information...
Windows of the World
Intelemart's Yellow Pages Directory
Tour by Mexico
[ Features Index ]