Nude recreation traces its origins to the first Olympic Games in Greece. Athletes competed in the nude and thought nothing of it. Since that time Europeans have popularized naturist activity with chic topless and clothing-free beaches and resorts.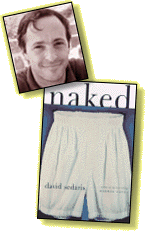 In the U.S. nudism dates to the twenties. But its popularity has soared in the 90's. Susan Weaver joins us to explain why nude recreation is booming. Susan is the secretary and spokesperson for the American Association of Nude Recreation -- 50,000 strong, her organization is the oldest of its kind in the country. Why is less better?
Forbes magazine released statistics in February of 1992 and again in November of 1996 showing that nude recreation is one of the fastest growing segments of the travel industry. What do you get from a clothing-free vacation that you don't get from a similar vacation wearing shorts, jeans or even a bathing suit?
David Sedaris's book Naked is available from Amazon.com.

[ Features Index ]