[an error occurred while processing this directive]

If you're in the mood for a good laugh, and you're up for a trip, Montreal's international comedy festival is the place to be. The festival, a 12-day humor bash, called Just for Laughs, is considered to be the Cannes of Comedy. Just for Laughs runs July 15th-26th.
Festival alumni include laughmasters such as Lilly Tomlin, Drew Carey, Jay Leno, Bob Newhart, Jerry Seinfeld and hundreds of others. Over the years the festival has included acrobats from Kenya, mimes from Italy, jugglers from Sri Lanka, and of course--stand-ups from the US.
This year's line up offers 110 comics from 11 countries around the world including South Africa, South Korea, Australia, and New Zealand.
Judith Ritter reports from Montreal's Latin Quarter, the sight of this year's gathering.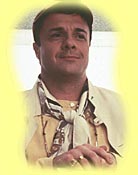 Judith: Here outside the theater St Denis, in the midst of the cafes, boutiques and bistros that make Montreal the European style city it is, the Just For Laughs folks are announcing the headliners for this year's festival. Today we are not seeing the star spangled characters who flood the city every July. With the characteristic quirkiness of the festival, today's entertainment features a tuxedo clad band from a local homeless mission. They're singing the festival theme song...Just Pour Rire (Just for Laughs).
Here at the festival's kick-off event, the crowd of journalists, locals, and comedy buffs, dance in the street as a warm up for the week and a half next month when Just for Laughs takes over the streets, clubs, and concert halls of Montreal. A visit to just for laughs is total comedy immersion.
Over the years, high profile performers like Drew Carey take the stage at glittering galas in Montreal's toniest venues such as Place Des Artes. This year there are 10 major events hosted by the likes of Nathan Lane, star of Mike Nichol's Bircage, the legendary Don Rickles, and the Ray Ramono, the star of the TV sitcom, "Everybody Loves Raymond."

For festival goers, it's the punch line that's the bottom line and there are lots of laughs to be had at the fest--not just when the curtain goes up on the Hollywood superstars, but at smaller shows such as the politically incorrect "Nasty Show," a celebration of crude and lewd. Or at this year's event, which is billed as the "Queer Show" starring Kate Clinton, who the L.A. Times called "The lesbian you want to take home to meet your parents."
For the folks who love to laugh but have a tough time making ends meet, Just for Laughs offers 150 free street performances daily. From 6 PM to midnight the city's Latin Quarter will be filled with young comedy troupes from Europe, the U.S. and Canada. Add to the mix, Britcom, an all British show and a parallel Just for Laughs in French.
Just for Laughs International Comedy Festival runs July 15-25. For more information, check out their Web site or call the Just for Laughs Information Line: 514-845-2322
[ Features Index ]