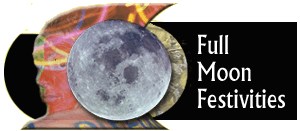 Full Moon Festivities
December 18, 1999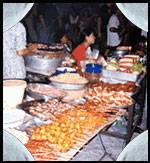 When the moon becomes full over the island of Koh Phangan in Thailand, you'll find thousands of tourists from all over the world flocking there to celebrate it. And if you think things get a little crazy here when the moon is full, you ain't seen nothing.
The day before the full moon, the people start arriving. Power boats and water taxis bring them from the Thai mainland. Then, as day turns to dusk and the moon begins its wide trajectory over the harbor, that's when the music starts. Dozens of DJ's playing house, hip-hop, salsa, world grooves...there's literally something for everybody. When the last daylight vanishes, the entire beach becomes a dance floor, with jugglers, fire-eaters, even fireworks shooting out over the water.
The party lasts all night until dawn breaks and the full moon slips below the horizon. There are plenty of bungalows if you can't stay up, but hundreds simply camp on the beach -- if they sleep at all. The next full moon party is December 22nd; but if you can't make it over to Thailand by then, rest easy. Whenever there's a full moon you'll find people gathering on Koh Phangan to celebrate it.
{ Culture Watch Index }