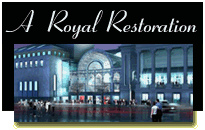 A Royal Restoration
December 4, 1999

You could hear the whispers before the curtain went up on Britain's Royal Opera House at Covent Garden this week. It was first performance after 30 months of renovations so extensive, people are saying the theater has been reborn.
The backstage was completely blown out -- there's a new studio theater, rehearsal and dressings rooms. A new, spacious public foyer replaces the cramped quarters audience members once knew in the lobby. Even the main auditorium was spruced up with the addition of one guaranteed crowd pleaser: new air conditioning.
This week's grand re-opening featured none other than Placido Domingo, singing for the queen. A new season begins this week with Verde's "Falstaff," followed by a showcase of international dancing by the Royal Ballet.
The $360 million renovations haven't come without their controversy. But with the new director lowering ticket prices and still managing to get the house into the black, why, even the Royal Opera House's critics are whispering, bravo!
And that's this week's Culture Watch.
Savvy Resources for the Royal Opera House:
The Royal Opera House
The web site of the Royal Opera House;
includes history, events, links to related sites
http://www.royalopera.org/

{ Culture Watch Index }