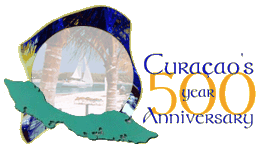 Curaçao's 500-year Anniversary
October 16, 1999

Amerigo Vespucci called Curaçao the "Island of the Giants" because the Arawak Indians who lived there were so tall and slender. Vespucci and his Spanish cohorts arrived in 1499, so this year Curaçao celebrates its 500th year on the world map.
It sits just off the coast of Venezuela, and has historically been a sort of hemespheric crossroads. Arawak Indians escaped to Curaçao when hostile enemy tribes swept them off the mainland. In the 1600s, the island was a staging ground for the colonial wars and, later, pirates sought shelter in the island's deep-water ports. Now home to 55 ethnic groups, Curaçao has become popular with both sea captians stopping over on their way to Panama and tourists not really in a hurry to go anywhere else.
Since no one knows the exact date of Vespucci's arrival, the island's been celebrating all year long. The biggest events are October 29th. At "Sail Curaçao 500," old-style Spanish Gallions will again drop anchor in Anna Bay. And the Little Sea Festival features the music, food and dance of the island's diverse people.
Savvy Resources for Curaçao:
{ Culture Watch Index }