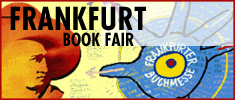 Frankfurt Book Fair
October 9, 1999

In 1455, Johann Gutenburg was up to his neck in debt. So he came up with a plan to win back his financial freedom. He printed up copies of the Christian Bible on his newly invented printing press and took them to the Frankfurt Book Fair. He hoped to sell enough to win his way out from under his creditors' thumbs.
Even way back then, the Frankfurt Book Fair was one of the world's most important literary events. Today it's no different. It's the stage for authors, publishers and, of course, books from every corner of civilization. Everyone from serious bibliophiles to regular romance junkies are welcome. It opens October 12th and this year there's an in-depth look at Hungary...with a whole hall devoted to that country's art.
The Frankfurt Book Fair runs through October 18th. And, you know it wouldn't be 1999 without another "best of" list. Ranging from Sigmund Freud to Nelson Mandela, this top 100 is definitely global in nature.
{ Culture Watch Index }