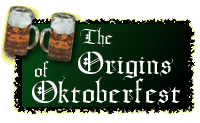 The Origins of Oktoberfest
October 2, 1999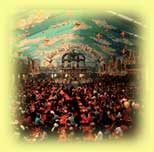 Times change: China now brews the most beer in the world, Mexican polka is the most popular and Oktoberfest isn't even in October. Ironically, the celebration of Bavaria and its beloved beverage starts in September now. Of course, it wasn't always like that.
The first Oktoberfest was on October 12, 1810, and it honored the marriage of Crown Prince Ludwig to his royal bride. All of Munich was invited to the party. It was such a hit that Ludwig made it a yearly event. There were horse races, music and -- if you can believe it -- not a lot of beer. Of course, time passed...and people got thirstier. Bavaria's breweries set up small stands and later built the tents and halls now synonymous with Oktoberfest.
But don't worry if you can't fly to Munich where this year's festival is already winding down. There are plenty of big parties left. Try Tulsa, Oklahoma or Waterloo, Ontario. Even sunny Hollywood, Florida is dusting off its supply of giant steins and, of course, lederhosen.
{ Culture Watch Index }