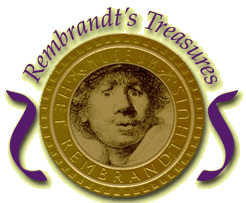 Rembrandt's Treasures
September 18, 1999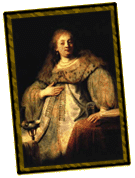 The Dutch painter Rembrandt never went to Italy, even though his remarkable use of contrast and color is seen as the direct descendant of Italian masters like Caravaggio. Rembrandt adapted a technique called chiaroscuro, where illusions are created by mixing light and darkness. Color is implied, definition suggested rather than detailed.
Rembrandt's private life was also something less than it seemed. This will be clear next week at the Rembrandt House Musuem in Amsterdam. See, September 25th marks the opening of a new exhibit at the museum--"Rembrandt's Treasures" features Rembrandt as collector. He spent huge sums on famous paintings, scuptures, drawings--even exotic weaponry.
September 25th also marks the re-opening of the entire House Museum to the public. Over the last year the house has been painstaking restored to its 17th century state.
The irony here? The house has been furnished thanks to a general inventory taken in 1656. That's the year a magistrate listed everything Rembrandt owned for bankruptcy proceedings.
{ Culture Watch Index }