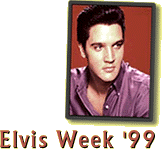 Elvis Week '99
August 7, 1999

Well, Elvis Presley may have left the building 22 years ago, but so many fans refuse to. In fact, they're throwing 99's biggest party, from Beale Street to Graceland Crossing, beginning this weekend and running until the 19th for...that's right, it's Elvis Week in Memphis. For many families its a summer vacation stop, but for others it's a family reunion that stretches from daily free concerts in Graceland Plaza to the Pink Cadillac party and a thousands-strong candlelight vigil the last night.
The Heartbreak Hotel has been booked solid, no doubt. There's so much going on in Memphis this week you know folks'll find a way to get there and see a Sun Studios block party, an Elvis moonlight cruise, and of course, an "Elvis: Legacy in Light" show at the Sharpe Planetarium. Or you can get all shook up at the Elvis Presley International 5K Run.
Graceland operators promise that Elvis Week '99 will continue to recognize Elvis the beloved entertainer, but, more than that, it recognizes with RCA this year for the first time "Elvis, Artist of the Century."
{ Culture Watch Index }