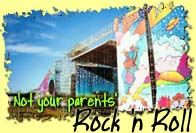 Not Your Parents' Rock 'n Roll
July 24, 1999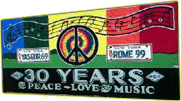 Here's a "trip and a half" as my hippie ancestors used to say: "Woodstock 99." What became known as three days of peace, love, and music in 1969 has become three days of, "well, who knows what will happen at this happening?" I know some of your favorite bands will be there, Rudy: Fatboy Slim, Insane Clown Posse, and Megadth.
Not exactly Crosby Stills or Janis, but hey, there's about 40 other bands showing up. The site this time is Grifiss Park, a former Air Force Base, 50 miles west of Albany in Rome, New York.
This is not your parents rock and roll. The concert will be kept "gate-crasher-free" they say, by almost 3,000 security personnel. Plus tickets are $150 for the three days. Luxury motorcoach tours called the "Woodstock Express" have left from 17 U.S. cities, but if you drive, parking's only $5, and camping is free with your admission ticket. They're even prepared with 2,000 Port-a-Potties and a hospital.
I guess the only question is, can you trust a concert over the age of 30? Just "don't eat the Brown Power Bars, man."
{ Culture Watch Index }