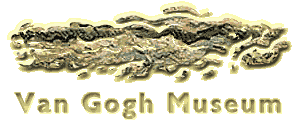 Culture Watch: Van Gogh Museum
June 26, 1999
Finally, after being closed for 10 months, the Van Gogh Museum reopened its doors on Thursday. It was closed for renovations in order to hold the million or so tourists who drop in every year. The original part of the museum is now dedicated exclusively to the permanent collection which includes about 200 paintings and 500 drawings...not to mention van Gogh's letters and his own collection of Japanese prints.
Plus, there's a new wing for special exhibits. The first one is called "Theo van Gogh: Art Dealer, Collector and Brother of Vincent." You've probably heard of the close relationship between the two -- Theo was very supportive of his brother, both financially and emotionally. In this exhibit you'll see a group of Vincent's paintings that were particularly special to Theo, including "Almond Blossom".
By the way, Theo wasn't just a big fan of his brother. He also sold works for painters like Monet, Pisarro and Degas. Matter of fact you'll see Degas' "Woman Seated Beside a Vase of Flowers" at this exhibit. You can catch this collection at the van Gogh museum in Amsterdam until September 27th, when it makes the journey to the Musée d'Orsay in Paris.
{ Culture Watch Index }